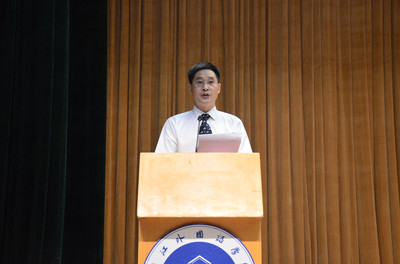 Professor HONG GANG
President of Zhejiang International Studies University
Welcome Speech 2016

Dear new students,
Welcome to Zhejiang International Studies University (ZISU).
When you open this admission letter, you'll read eight characters inscribed in traditional Chinese calligraphy:"明德"(Virtue), "弘毅" (Preservation ), "博雅" (Erudition) and "通达"(Practicality). This is our university's motto, quoted respectively from The Great Learning, The Analects, The Songs of Chu and Book of Rites. I hope you will understand the meanings of these words and take them as your own motto of life.
Cultivating bright virtue is the true mission of college education. Here in ZISU, what we value as a person's bright virtue is comprised of such qualities as honesty, civility, benevolence, dedication, and most important of all, loving of one's country and people. "The way of Great Leaning lies in the enlightenment of brilliant virtues, the remoulding of people, and the pursuit of ultimate goodness." Countless success stories in this world have shown us that a person's brilliant virtue, rather than his or her intelligence and other abilities, is the most indispensable factor to his or her success.
I believe every one of you aspires to be successful in your future career. But "No pains, no gains." The much-aspired success will not be presented to you wrapped and bowed. You have to be perseverant in what you have decided on and you will have to work hard. Don't be afraid of whatever difficulties you will encounter in your studies here. Remember, the legacy of your college years will be a legacy of difficulties overcome. When you face equally arduous tasks later in life, you will tap your old resources of strong determination, extensive knowledge and problem-solving skills, and you'll win.
Of course, your expertise will not come of its own accord. It is the hard-earned outcome of both intensive and extensive reading — not only digital reading now popular among young people,but traditional print reading of world masterpiece which gives us more time to weigh and consider the content. As Francis Bacon wrote, "Reading maketh a full man." And I understand that a "full man" in the modern age is one with a global vision, a critical mind, a compassionate heart, and a versatile hand. All those qualities and capacities are the natural result of deep reading and rumination.
But, to be well-read is not the ultimate purpose. It is just a means to an end. Knowledge and action should go hand in hand. Your learning in school will be of no practical relevance if not applied in serving the people, and for their well-being. Hence comes the last word of the University's motto: "Practicality." It is the logical end we should work together for and try to accomplish in the coming three or four years.
So now begins your time here at ZISU. To help you realize your goal, we will try our best to create and place many opportunities within your reach,and it rests with you to grasp and improve them.
With best wishes,
Hong Gang
President of Zhejiang International Studies University
__________________________
Hong Gang
President of ZISU